Capdeco Conty 18/10 Stainless Steel 5pc. Flatware Set (Wood)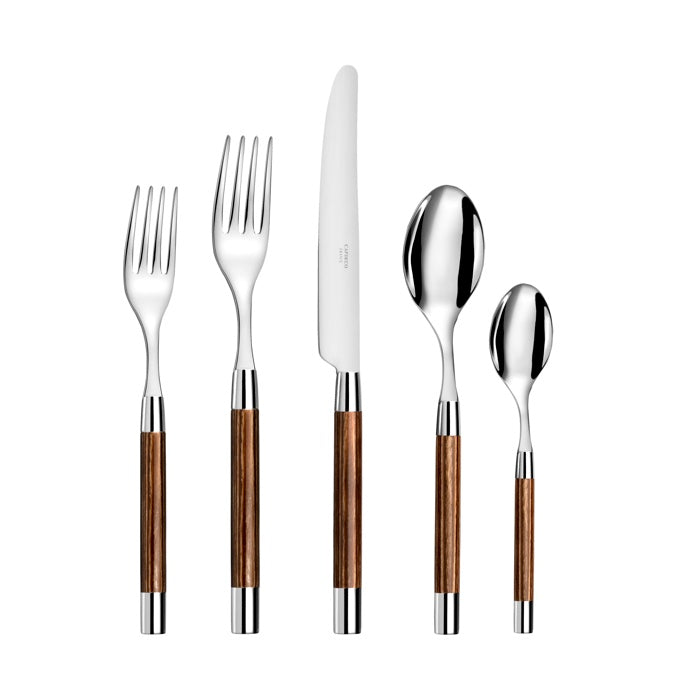 Capdeco Conty 18/10 Stainless Steel 5pc. Flatware Set (Wood)
Regular price
$300.00
$300.00
With its elegant design and superior quality, the Conty wood cutlery set from Capdeco is ideal for either every day use or special occasion. Beautifully rendered in the highest quality 18/10 stainless steel with durable handles in natural wood, this flatware will add a stylish finish that is very unique and complementary with both, classic and contemporary tables. Very durable and ergonomic.
Capdeco cutlery, in both classic and contemporary style, is created from end-toend with the same care and 18/10 stainless steel, whether they are entry-level or high-end. Hand-assembled, as in the past, in the company's Thiernois workshops, the greatest care is taken at every step of the manufacturing process to ensure the durability of each piece. Made in France.
Includes 1 Dinner fork, 1 Salad/Dessert Fork, 1 Soup spoon, 1 Tea spoon, and 1 table knife.
Material: Stainless Steel 18/10, Wood Handle.
Dishwasher safe.
Made in France.
Dimensions:
Product Height Inches (for flatware length of each piece)
Dinner Fork - 8.26"
Salad Fork - 7.48"
Dinner Knife - 9.5"
Soup Spoon - 7.48"
Tea Spoon - 5.9"